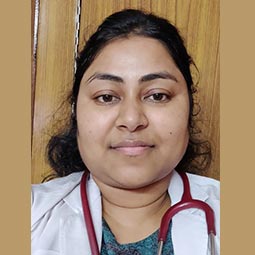 Dr. Jyoti Aggarwal
MBBS, MD - General Medicine
---
Department
Medicine
Honorary Post
Consultant
About
Dr. Jyoti Agarwal is renowned general physician at Tirath Ram Shah Hospital. Completed one year of fellowship in diabetes conducted by medvarsity and apollo hospitals educational and research foundation accredited by the royal Liverpool academy, United Kingdom.
She has done her MBBS from Vardhman Mahaver Medical College And Safdarjung Hospital New Delhi  and Masters (MD). (General Medicine) From Dr. Ram Manohar Lohia Hospital. New Delhi.
Expertise
Medicine
General Physician
Area(s) Of Interest
Medicine
General Physician
Procedures Performed
Treatments/Procedures Offered
Medicine
General Physician
OPD
Schedule
Days
General OPD
Private OPD
Monday
N/A
N/A
Tuesday
N/A
N/A
Wednesday
9.00 a.m. to 1.00 p.m.
N/A
Thursday
N/A
N/A
Friday
N/A
N/A
Saturday
N/A
N/A
Sunday
N/A
N/A
Phone:
+91-11-23972425 Ext: 307
Room No.
07
Note : Above information are subject to change without prior information. kindly contact department reception.