General Nursing & Midwifery (GNM)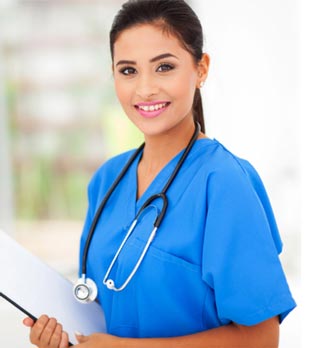 Tirath Ram Shah Charitable Hospital established in 1955, is one of the oldest private hospitals in North Delhi. The hospital is NABH (National Accreditation Board for Hospitals) & NABL (National Accreditation Board for Laboratories) accredited. NABH & NABL are the highest benchmark standards for Hospital quality is India.
The School of Nursing was established in 1963 and runs under the guidance of "Tirath Ram Shah Charitable Trust".
OUR VISION
Our vision is to provide knowledge and skill based nursing training to fulfill the need of the community & the hospital.
OUR MISSION
Our Mission is to create and sustain an institute of learning in which students acquire knowledge, skills & successfully learn to apply it professionally. We focus on comprehensive development of students by providing them a requisite environment for their holistic development.
Tirath Shah Hospital is committed to empower the girl child. We envisage that a well informed, educated & confident girl of today is an empowered women of tomorrow.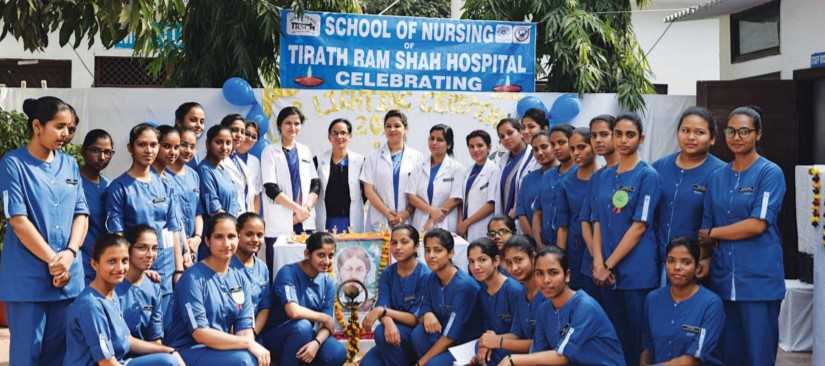 Philosophy of School of Nursing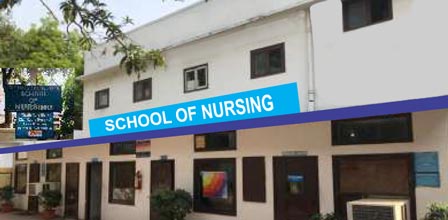 We recognize Nursing as a practicing profession which adheres to and promotes the occupation for advancement, restoring, maintaining health & preventing diseases.
We believe that this course lays the basic foundation for nursing practice & thus on it depends further professional, educational and continuous development of students so as to mold them into responsible members of the society and citizens of the country.
Objectives of The School
To help the students acquire knowledge and understanding of the scientific principles applied in nursing care.
To help the students in acquiring the skills which are essential in providing healthcare according to the need of the individual patients in a modern hospital.
To acquire knowledge, understanding and empathy necessary for carrying out Nursing activities both in the hospital & in the community at large.
To help the students in learning and developing skills while maintaining good interpersonal relationship and effective communication.
To develop an awareness in the students of their professional responsibilities.
Scope of Nursing
The demand for nursing profession is very high, not only in India but in foreign countries also.
It gives an abundant scope to make full use of one's potential and meet the desired goals of the career seeker, and to those who seek to help sick people.
It has many entry levels, one of them is General Nursing and Midwifery Course. Subsequentially, specialization in Clinical, Non-Clinical, Teaching &Administration areas can also be developed.
Nursing as a profession is a highly job-oriented course & the placement percentage of nursing professional is much higher than any other course.
Details of The Course
Name of course : Diploma in General Nursing and Midwifery (GNM) Recognized by Indian Nursing Council & Delhi Nursing Council.
Duration : 3 Years
No. of seat :30
Eligibility criteria
a. Age limit – The minimum and maximum age for admission will be 17-25 years as on 31st December 2023.
b. Sex-Female (unmarried)
Scholarship is given to eligible students.

Click here to Download: Prospectus for GNM Course 2023
Educational Qualification
10+2 passed with minimum 50% marks aggregate in any of the three subjects. mentioned below:


| | | | |
| --- | --- | --- | --- |
| Accountancy | Business Study | History | Civics |
| Psychology | Home Science | Commerce | Economics |
| Computer Science / Information Practice / Word Processing /Multimedia | Geography | Sociology | Political Science |

English as a subject till +2 level is essential with passing marks.
Students can be from any stream
Those who have successfully completed ANM course (10+2) vocational (revised after 2001) from a school recognized by India Nursing Council.
Admission Procedure
Admission shall be through entrance test and/or interview or 12th Class merit (as the situation may be or as per the further guidelines of DNC/INC) Medical fitness certified by the doctors of Tirath Ram Shah Hospital is mandatory.
How To Apply
Application form must be filled by candidates in their own handwriting. Candidates must apply in the prescribed form