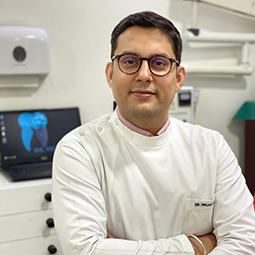 Dr. Naunit Vaid
BDS, MDS - Prosthodontics
---
Department
Dentistry
Honorary Post
Consultant
About
Dr. Naunit Vaid graduated in dentistry from Mahatma Gandhi Post-Graduate Institute of Dental Sciences (Government Dental College), Pondicherry in 2009 followed by his Post Graduation in Prosthodontics and Oral Implantology from SGT Dental College, (Pt. BD Sharma University of Health Sciences, Rohtak) Gurgaon in the year 2013.
He specializes in full Mouth Rehabilitation, Complete Dentures, Partial Dentures including the most recent advancements like hollow dentures, flexible dentures and over dentures. All kinds of crowns, multiunit bridges, esthetic corrections, smile designing, post and cores are routine but what is notable is his interest and expertise in implants and implant surgery.
He also has a keen interest in rehabilitation of Oral and Maxillofacial defects and Endodontic treatments. He has trained extensively in dental implants and is a keen advocate for incorporation of technology in dental practice. Dr. Naunit vaid practices in a group practice along with his father – Dr. Naresh Vaid, a senior dental surgeon.
Services
Dental Implants
Invisalign/Clenr Braces
Cosmetic Dentistry
Crowns / Bridges & Veneers
Full Mouth Rehabilitation
Root Canal Treatment
Orthodontic Treatment
Fillings Teeth Whitening
Pediatric Dentistry
Expertise
Prosthodontics
Oral Implantology
Area(s) Of Interest
Prosthodontics and Oral Implantology
Procedures Performed
Prosthodontics and Oral Implantology
Treatments/Procedures Offered
Prosthodontics and Oral Implantology
OPD
Schedule
Days
General OPD
Private OPD
Monday
9.00 a.m. to 11.00 a.m.
N/A
Tuesday
N/A
N/A
Wednesday
9.00 a.m. to 11.00 a.m.
N/A
Thursday
N/A
N/A
Friday
N/A
N/A
Saturday
9.00 a.m. to 11.00 a.m.
N/A
Sunday
N/A
N/A
Phone:
+91-11-44333333 Ext: 293
Room No.
0
Note : Above information are subject to change without prior information. kindly contact department reception.